Hiring is 90% of the game. Hire the right people, everything gets easy.
Hire the wrong person, and the negative impact ripples through your organization, hurts your business, and can make your life miserable.
The problem, when it comes to hiring, is that…
People, Especially When Applying for a Job,
Are Like Icebergs – Only a Small Part of Them is Visible
Imagine If You Could See the Part of the Applicant that's Not Visible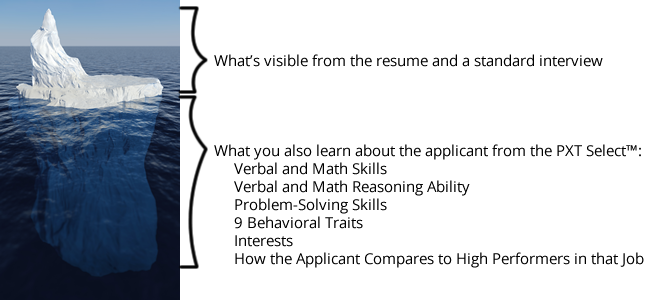 Click Here for a FREE Trial Assessment
The Cost of Hiring Mistakes
In key jobs, hiring mistakes are expensive. The American Management Association says that the cost of turning over an employee ranges from 50% to 200% of their annual salary. In addition to the business costs there are the personal costs of having to deal with and possibly terminate a poor performer.
Click here for a worksheet to help you estimate the cost of a poor hire for a job in your organization.   "Cost of a Bad Hire" Calculator (Excel document)

How the PXT Select Helps You See the Whole Candidate and Make Better Hiring Decisions
Understand the Applicant Better – The PXT Select helps you understand the applicant far better than you would with just a resume and a standard interview. You learn about their verbal and math skills and reasoning ability, which translates into decision-making and problem-solving skills. You see where they stand on nine behavioral dimensions, so you get a good picture of who they really are. And you learn about their interests, so you can see if the job is likely to be something they enjoy.
Compare the Applicant to the Profile of a Successful Performer in That Job – The PXT Select gives you the profile of a successful performer in that job based on validated research into previous past performers in that position. The profile can be adapted to fit the specific requirements of the job in your organization.
Get More Value from the Interview – When you understand the applicant and the profile of the successful performer, you can use your interview time more effectively to understand the applicant's strengths and probe into areas where the applicant may not fit the profile of successful performers. The PXT Select provides interview questions and suggestions on what to listen for in the applicant's answers.
Click Here for a FREE Trial Assessment
After the Hire – Coaching
The PXT Select includes a Coaching Report for the applicant you hire. The Coaching Report provides the hiring manager with information on the applicant's skills and behaviors, how they fit the profile of the ideal performer, and coaching tips for the manager to help the new employee succeed.
One Assessment. Access to a Full Suite of Reports
In addition to the report you receive on the applicant and the Coaching Report, PXT Select offers seven other reports that help managers and employees succeed.   The other reports that are available are:
MULTIPLE POSITIONS REPORT – Which positions might be best for a particular individual? Compare a candidate or employee to multiple jobs in your organization.
MULTIPLE CANDIDATES REPORT – Make hiring decisions with ease. Compare multiple candidates for a single position.
PERFORMANCE MODEL REPORT – Understand the range of scores and behaviors for the position you're trying to fill. Learn about the ideal candidate for that role.
TEAM REPORT – See how a potential candidate fits an existing team, or address your current team's dynamics and strengths.
MANAGER-EMPLOYEE REPORT – Help managers discover how they can work more effectively with their employees.
INDIVIDUAL'S FEEDBACK REPORT – Candidates can learn from PXT Select, too! This narrative report doesn't reveal scores and is perfectly safe to share with applicants.
INDIVIDUAL'S GRAPH – Are you more of a visual person? The graph illustrates a candidate's results that you can view at a glance.
Click Here for a FREE Trial Assessment
About PXT Select

The PXT Select story began over 20 years ago when a company called Profiles International concepted and developed a suite of talent management tools designed to help organizations hire the right people and develop their teams. Profiles International served over
40,000 clients in 120 countries.
In 2014, John Wiley & Sons, Inc. acquired Profiles International and set out to evaluate the marketplace and use innovation and collaboration to make the products even better. After extensive beta testing, the PXT Select was born.
Why Hospitality Resources?

Dave Newton, principal of Hospitality Resources, has over 25 years' successful experience in strategic human resources, operations management and consulting.  He has an MBA in Management with a concentration in Human Resources as well as his SPHR and SHRM-SCP certifications.  He was among the first people in the country to become a PXT Select Certified Professional.
He brings a high level of practical expertise in the selection process, having opened numerous hotels and casinos.
As the opening VPHR of The Venetian Casino Resort in Las Vegas, he was responsible for establishing a hiring process that screened 44,000 applicants and hired 4,000 people in a six-month period. This despite having an extensive selection process that included assessments, screening interviews, group interviews, department interviews and (for front of house applicants) auditions.
Since the Venetian Dave has consulted and trained a variety of organizations on the hiring process.   He believes that investing a little bit more in the hiring pays huge dividends in organizational performance and reduced aggravation for managers.
When you work with Hospitality Resources you get personalized assistance in conducting and interpreting assessments, so you are comfortable with the information you get and how to apply it.